Online Seminar: Interpreters and Foreign Language Students in Pre-colonial Nguyen Vietnam (1802-1883): A Brief Archival Survey.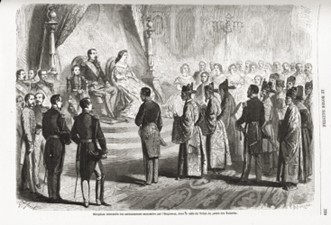 Presenter: Xuan Tran (Hamburg University).
In the early 19th century, the Nguyễn dynasty (1802-1945) experienced a significant degree of globalization with the presence of certain French high-ranking officials serving at court and the adoption of Western technologies in modernizing the country. The pivotal roles of interpreters in facilitating commercial and diplomatic transactions were highly recognized by the Nguyễn court, particularly when it became involved in Western invasions during the latter half of that century. This presentation aims to provide a concise overview of interpreter training within the Nguyễn court during the pre-colonial period from 1802 to 1883. The purpose is not to definitively address each inquiry, but rather to introduce the potential availability of historical sources shedding light on several questions. This groundwork is intended to lay the foundation for future comprehensive research endeavors.
The Nguyễn dynasty initially relied on Sinitic brush conversation and occasionally selected interpreters from multilingual Christian communities within the country. This raises pivotal questions: When did the Nguyễn court formally commence the training of interpreters? Was this achieved through the establishment of local language schools or by sending students abroad for education? Additionally, how did interpreters, equipped with their command of foreign languages, contribute to the Nguyễn court's strategies for effective communication with foreign counterparts, intelligence gathering, and the pursuit of national strengthening during the delicate process of treaty negotiations under the reign of Tự Đức (1847-1883)? Did the Nguyễn interpreters possess the requisite skills to adeptly handle the complexities of treaty negotiations and drafting during this period?
To participate, please register in advance via:
This email address is being protected from spambots. You need JavaScript enabled to view it.